About Rehoboth Temple and Our Leadership


Rehoboth Temple
Bishop
George A. Williams
Mother Sheryl Williams
Pastor
Marvin Williams
Sandra Williams
Mother Sherly Williams
Biography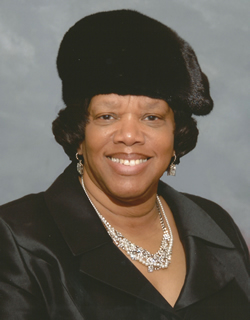 Mrs. Sherly Williams is the wife of Bishop George A. Williams and the first lady of Rehoboth Temple Church of God in Christ, and of the Keystone Ecclesiastical Jurisdiction of Pennsylvania. She was called to work in the ministry as an evangelist in 1982.
Mother Williams is a graduate of Saints Junior College in Lexington, Mississippi.
Before coming to Rehoboth, Mother Williams was a member of Macedonia Church of God in Christ for 52 years under the Leadership of Bishop Hester D. Bordeaux, Prelate of the 2nd Jurisdiction of Connecticut.
Mother Williams has served as Sunday School Superintendent for 40 years, and served as District Missionary for over 25 years. She also served in her local church as choir directress, Sunday School teacher, Christian Education Instructor, YPWW president and teacher.
Mother Williams has conducted prayer revivals in her local church as well as throughout the State of Connecticut. She also served as a Facilitator for Singles Retreats for more than 10 years.
She expresses and demonstrates her desire to help those that are oppressed and in need, this led her, with much prayer and truly depending on the lord to establish a breakfast ministry in her local church that fed the homeless and those afflicted with various addictions. This Breakfast ministry was recognized by the New Haven Registrar for its outstanding work. There was also a clothing Ministry and a Food Bank Ministry on which she serves to minister to the needs of the community.
Mother Williams received a Bachelor of Science in sociology from Greenville College in Greenville, North Carolina.
Mother Williams worked for the Model Cities Program for the City of New Haven, CT. and then for the Board of Education for a total of 38 years. But the job she loved the most was her involvement with the Virginia Wells House which was a transitional House for young girls and women caught up in the criminal system. It was there she was granted permission to pray, read the Bible, take them to church and with God's help and with love and compassion motivate the ladies to rebuild their lives, to learn to love themselves and to learn how to love God their creator.
Mother Williams is a native of New Haven, Connecticut. She started serving the Lord at an early age, and received the Holy Ghost at the tender age of 10 and has been singing and glorifying God ever since.
She is the proud Mother of one daughter, Kristin Nicole Burton who is a public school administrator in the state of Maryland.