About Rehoboth Temple and Our Leadership


Rehoboth Temple
Bishop
George A. Williams
Mother Sheryl Williams
Bishop
Marvin Williams
Sandra Williams
_____________________________________________________________________
Bishop Marvin Williams
Biography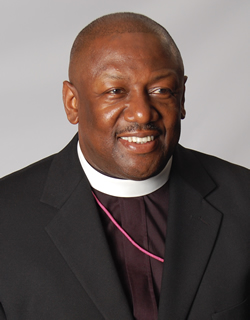 Pastor Marvin Williams was born to Mother Myrtice Williams and Bishop George Alton Williams, founder of Rehoboth Church of God in Christ.  Being a son of spiritual parents, it was natural for Pastor Williams to be raised in the church.  As a child he participated in the Sunshine Band and Children's Usher Board.   Pastor Williams also attended Sunday School and Young People Willing Workers.  These biblical educational ministries set a sure foundation in his early years that would sustain him as he grew into adulthood.  In 1972 Pastor Williams attended Church of God in Christ Saints Academy, located in Lexington Mississippi. He furthered his biblical education by attending the Charles Harrison Mason Institute.  Later, he attended the Interdenominational Theological Center, from which he graduated in 2001.

After leaving Saints Academy, Pastor Williams returned to Philadelphia, Pennsylvania.  He continued to be a member of Rehoboth Church where he met the love of his life, Sandra Rowland.  They were married and they have four daughters, Donna, Mikia, Myrtice, and Adeline. Pastor Williams wholeheartedly accepted Jesus Christ as his personal Savior.  He received the baptism of the Holy Ghost with the evidence of speaking in tongues. Later, he was called to the ministry and delivered his first sermon titled "The Christian Race" taken from Hebrews 12:1.  Bishop George A. Williams, founder and prelate of Pennsylvania Keystone Jurisdiction, officially ordained Marvin Williams as Elder in 1993.  Pastor Williams diligently worked in the church by learning every aspect of the church. His main focus was the Evangelistic Outreach Department and the Youth Ministry. He believes that it is of vital importance to bridge the gap between community and church.  In 1998 Bishop George A. Williams appointed Elder Marvin Williams as pastor of Rehoboth Church of God in Christ. 

Pastor Marvin Williams' passion is building the kingdom of Jesus Christ by way of spreading the gospel and through holistic ministry.  Among the many ministries already existing at Rehoboth, through the  leadership of Pastor Marvin Williams,  the creation of the Summer Tent Revival, Community Day, Midnight Cry, Spring and Fall Harvest for Souls, and Revival Fires were implemented. These ministries are designed to mend the brokenhearted, heal the wounded souls, and to fill those that hunger and thirst after righteousness. 

Pastor Marvin Williams has been elevated to the office of Bishop in 2016 by the Church of God In Christ. In addition, Pastor Marvin Williams currently serves in the Pennsylvania Keystone Jurisdiction as the Chief Adjutant, Chairman of Pastors and Elders, Ordination Board Member, and Program Planning Committee Member.