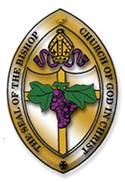 ____________________________
____________________________
About Rehoboth Temple and Our Leadership


Rehoboth Temple
Bishop
George A. Williams
Mother Sheryl Williams
Bishop
Marvin Williams
Sandra Williams
_____________________________________________________________________________
Bishop George Alton Williams
Biography
Bishop George A. Williams, son of the late George L. Williams, and the late Martha Andrews Williams, was born on December 26, 1927 in Irwin County, Georgia. Holiness was first introduced to him through the dedicated Christian life of his late wife, Mother Myrtice Williams. The couple was joined together in Holy Matrimony in 1949, and to that union was born six children: Assistant Supervisor Mother Jacqueline Williams Clay, Kenneth Leon Williams, the late Anthony Vernon Williams, Pastor Marvin Williams, the late Zonder DeVon Williams, and Princeciner Renée Williams Weekes.
At the age of twenty-three, he was saved and filled with the Holy Ghost under the late Elder J.W. Graham. In December 1953, Bishop Williams came to Philadelphia, Pennsylvania. He preached his first sermon in 1954 under the late Bishop Bruce Madison Oakley; and was ordained to the Gospel Ministry in September 1958 by the late Bishop Ozro Thurston Jones, Sr. of the Commonwealth of Pennsylvania Church of God in Christ.
Bishop George A. Williams is currently married to Mrs. Sheryl Williams, a native of New Haven, Connecticut. She is the proud mother of one daughter, Kristin Nicole Burton.